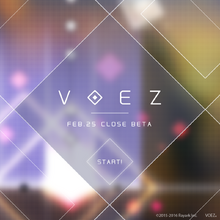 The VOEZ Closed BETA is a development stage which allowed privileged players to have early access to VOEZ. VOEZ Closed Beta has currently went through two stages. Stage 1 allowed players who went to RayarkCon2015 to receive a VOEZ CB test redeem code and have access to the game starting on February 25, 2016. The Closed Beta also went through Stage 2, which allowed more players to join as they are randomly selected after registering their email accounts through the VOEZ Facebook page, which can be found here. As it's the beta version of the full game, not all songs are available for players to play. Though some songs are available to play, a list of playable songs in Close Beta is provided below.
Available Songs in the Closed Beta
Edit
Song Rotation 1
Edit
Song Rotation 2
Edit
Limited Time Songs
Edit
Ad blocker interference detected!
Wikia is a free-to-use site that makes money from advertising. We have a modified experience for viewers using ad blockers

Wikia is not accessible if you've made further modifications. Remove the custom ad blocker rule(s) and the page will load as expected.