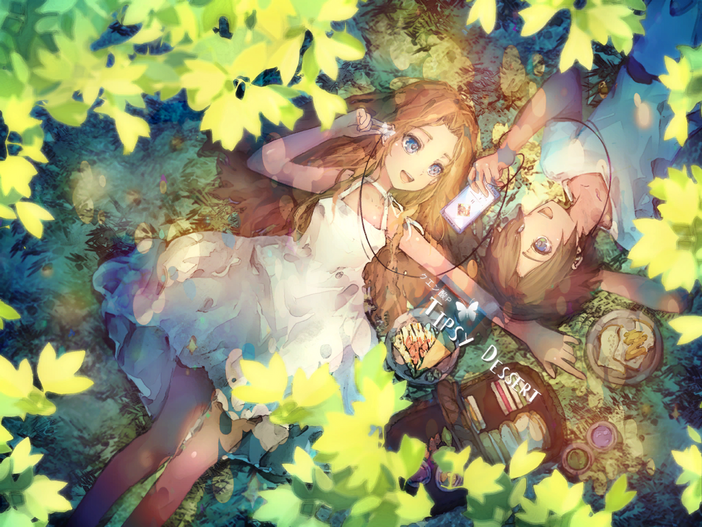 Difficulty
Level
Max Combo
Easy
1
95
Hard
9
277
Special
14
624
Length
2:17
BPM
134

樹葉的空隙送來合奏的蟬鳴
像祝福我們小小的約定
你微笑就像紅茶溫柔的香氣
加速了風跟心跳的聲音

烤爐裡酥香正在漸漸成型
攪拌要均勻 不被香味勾引
黃紅綠白四色 想要說的話 都切成三角型
要是怕來不及聊完的話題 就裝進餐盒裡

抬頭看是誰貪心 烤了可麗餅 在天空裡
小徑的終點是我們的秘密基地

下午的陽光照在抹茶色森林
開始了我們小小的約定
夏天的微醺像你臉頰的標記
加速了風跟心跳的聲音

Shùyè de kòngxì sòng lái hézòu de chán míng Xiàng zhùfú wǒmen xiǎo xiǎo de yuēdìng Nǐ wéixiào jiù xiàng hóngchá wēnróu de xiāngqì Jiāsù le fēng gēn xīntiào de shēngyīn
Kǎolú li sū xiāng zhèngzài jiànjiàn chéngxíng Jiǎobàn yào jūnyún bù bèi xiāngwèi gōuyǐn Huáng hóng lǜ bái sì sè xiǎng yào shuō dehuà dōu qiè chéng sānjiǎoxíng Yàoshi pà láibují liáo wán de huàtí jiù zhuāng jìn cānhé li
Táitóu kàn shì shuí tānxīn kǎole kě lì bǐng zài tiānkōng li Xiǎo jìng de zhōngdiǎn shì wǒmen de mìmì jīdì
Xiàwǔ de yángguāng zhào zài mǒchá sè sēnlín Kāishǐle wǒmen xiǎo xiǎo de yuēdìng Xiàtiān de wéi xūn xiàng nǐ liǎnjiá de biāojì Jiāsù le fēng gēn xīntiào de shēngyīn
The spaces between tree leaves give us a symphony of cicadas Like they celebrate our little promise Your smile is like the gentle scent of black tea Making the heartbeat-following wind even louder
The pastries in the oven are taking shape Mix them evenly; don't be enticed by its aroma Yellow, red, green, white; cut all that you want to say into triangles If you're afraid you can't say everything in time, put it in a lunch box
Look up and see who's the hungriest, as we bake crepes in the sky Our secret base is at the end of an alley
The afternoon sun shines on a matcha green forest As we start our little promise Your cheeks are like a tipsy summer Making the heartbeat-following wind even louder

木漏れ日から降り注いだ
祝福の蝉しぐれ
薫る紅茶は君の笑顔
早まっていく風と鼓動

オーブンで焼こう
サクサクまで
混ぜていこう
香り高く

黄色と赤 緑と白
三角にして
話し尽くさないネタは
カゴに詰めよう

食いしんぼの誰かが焼いたクレープは
とっておきの場所まで浮かんだ

昼下がりの森に始まる
抹茶色の約束
君を染めたほろよい夏
早まっていく風と鼓動

The boy and the girl in the cover art are listening to Tipsy Dessert (their own song).
This is the first song that is sung in Mandarin.
Currently this is the only song sung by an UTAU singer, Xia Yuyao.
Drag notes from 315-369 combo form Chinese phonetic characters "ㄙㄨㄢ" and a "P", referencing the composer's name (KuenSuan P).

The same case goes for Akari.
Ad blocker interference detected!
Wikia is a free-to-use site that makes money from advertising. We have a modified experience for viewers using ad blockers

Wikia is not accessible if you've made further modifications. Remove the custom ad blocker rule(s) and the page will load as expected.