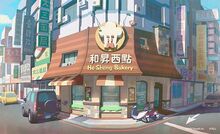 He Sheng Bakery is a location found in Lan Kong Town.
Description
Edit
He Sheng Bakery: Located in the most lively shopping district of Lan Kong Town is a Taiwanese Western style bakery, started up by Chelsea's grandfather empty handed and has been in business for over 30 to 40 years. It is now managed by Chelsea and Lance's parents, this time established brand with Chelsea's easygoing personality often attracts large crowds to come purchase. The most loyal customers visit almost daily, becoming the walking advertisements of He Sheng Bakery; even the emotionless Jessy and energetic Ocean can't seem to get enough.
This location was first shown in the VOEZ teaser
Ad blocker interference detected!
Wikia is a free-to-use site that makes money from advertising. We have a modified experience for viewers using ad blockers

Wikia is not accessible if you've made further modifications. Remove the custom ad blocker rule(s) and the page will load as expected.