Difficulty
Level
Max Combo
Easy
7
333
Hard
12
625
Special
16
890
Length
2:00
BPM
205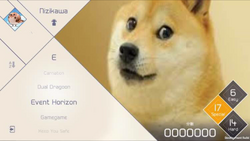 In the Chinese Development Build edition of VOEZ Beta, this song was available, but the cover art was replaced by a picture of a Doge.
In general relativity, an event horizon is a boundary in spacetime beyond which events cannot affect an outside observer.
Helpful Info
Edit
"
When the notes start moving like crazy, they actually mostly land on roughly the same spot, so just keep your fingers in that spot. If you're still having trouble, watch a video of someone playing or try the Easy version.
"
 

— Jaryu18128
Ad blocker interference detected!
Wikia is a free-to-use site that makes money from advertising. We have a modified experience for viewers using ad blockers

Wikia is not accessible if you've made further modifications. Remove the custom ad blocker rule(s) and the page will load as expected.